About The Pine View Cemetery and Crematorium
Staff:
Florence Mcauley, Office Manager
Julian Gamache
Jermey Squires
Michael Brunelle
Raymond Wood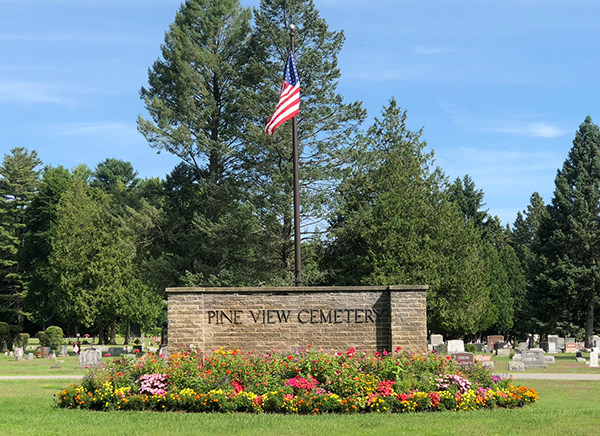 Pine View Cemetery was established in 1899. The cemetery covers approximately 100 acres and has over 8000 burials. The cemetery was privately run until 1948, at which time it was purchased by the Town of Queensbury. In 1988, the Town of Queensbury purchased the Pine View Crematorium and combined cemetery operations.
The cemetery is staffed daily from 7:00AM to 3:00PM to provide you with well-maintained grounds to meet the needs of each family. Office staff is also available to assist you with the purchase of cemetery plots for your pre-planning needs. MC/Visa are welcomed.
You do not need to be a resident of Town of Queensbury to utilize our services. We provide burials year round, cremations, mausoleum interment and vault storage.
Pine View Cemetery is governed by a Cemetery Commission. The commission establishes rules, regulations, as well as prices and services.
Cemetery Commissioners:
Donna Partridge
Brian Dreitlein
Sally Gordon
Cemetery personnel maintain Pine View Cemetery as well as 10 additional cemeteries located in the Town of Queensbury. Many of these cemeteries are historical in nature with burials dating from the 1700's. The Quaker Cemetery is currently in the process of being added as an historical site.
The employees of the Pine View Cemetery are dedicated to serving the needs of the citizens of Queensbury and our neighboring communities. We take great pride in the maintenance of our cemeteries, and strive for excellence in all aspects of cemetery operations.